Sarah Birkeland is an accomplished musician on several instruments, including the violin and piano, but her favorite instrument to play — bar none — is the upright bass. She took a one-hour bass lesson at a Minnesota Bluegrass Festival at the age of 12 and has been holding a steady beat with the largest member of the fiddle family ever since. She not only impresses audiences with her bass playing skills and she adds enthusiastic lead and harmony vocals to go along with her "heavy lifting" ability. At just over five feet tall, Sarah is dwarfed by her bass when she straps it to her back and hauls it from gig to gig or jam to jam. Thankfully, she and her bass, which she has affectionately named "Al," get from place to place and provide the foundation for a good "jam" or a great show. In addition to playing with her dad and brothers in the family band that bears her name, she also plays with the Bill and Kate Isles Band, Porcupine Creek, Ditch Creek and the always entertaining Road Kill Boys. 
Derek Birkeland is a talented, well-rounded musician and is quickly building a well-earned reputation as a "Jr. Jam Master" for his keen ability to play multiple instruments (including the guitar, fiddle and mandolin) and master the lyrics to many contemporary and classic bluegrass songs. If there's a good jam going off-stage, there's a strong chance Derek will find it and blend in with his strong baritone voice and excellent musicianship. Whether on-stage or off, Derek can bring out the blues in bluegrass and channel Johnny Cash and other country classics like Dave Dudley's Six Days on the Road. Outside of music, Derek likes the outdoors and earned the rank of Eagle Scout at the age of 15. He's also likes working with wood, and is in the process of building his first hand-crafted guitar under the guidance of "Sr. Jam Master" Tedd Williams. Derek is a past Minnesota Old-Time Fiddle Contest finalist and, like Sarah, plays in several bands other than the family band, including the Bill and Kate Isles Band, Porcupine Creek, Ditch Creek and the Road Kill Boys.
Adam Birkeland is the youngest member of the family and has been playing the resonator guitar for less than two years. He has quickly adapted to, and adopted, the unique instrument as his favorite. The resonator guitar is known for its distinctive sound because its resonance is produced by a metal cone instead of a wooden sound board like a flat top guitar. It's an instrument that is perfectly suited to Adam's high-energy personality. But it's not the only instrument he plays. He also picks a little six-string guitar and rolls, three-fingered style, on the banjo. When Adam's not planning or participating in air-soft wars or riding his mountain bike, he'll occasionally sit down and play serious bluegrass with the family band and with our friends in bluegrass. But he doesn't sit long — at least not at this point. Like his older brother, Adam is also a Boy Scout and enjoys camping, hunting, fishing and being outside.
Mike Birkeland is the patriarch of the band, which makes him sound really old, though he still has a ways to go to catch up to the likes of Noah and Abraham from Old Testament times. He plays guitar and sings harmony and lead vocals. He also writes most of the family's original music. His songs about faith, hope, family penetrate the soul. Mike has been writing songs for nearly 20 years, though most of his songs sat on the shelf for many years — just like his guitar. But he started playing again about the time he and Wendy, his wife of more than 20 years, started their family. Early on, Twinkle, Twinkle Little Star could be heard on a regular basis throughout the household. Today, the family band mixes bluegrass and gospel with original songs as they share the gift of music with audiences and congregations throughout the Midwest.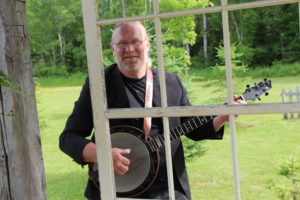 Family friend Tedd Williams rounds out the group on his five-string banjo. Sarah "adopted" Tedd as one of the Birkeland Boys many years ago … and he's as much a member of the family as he is a member of the band (his many cameo appearances in the Birkeland family Christmas greetings attests to that (see YouTube). Tedd is a versatile and experienced musician. He was member of the contemporary worship and gospel band Ascension for many years and, if he's not playing bluegrass, he leads worship on the acoustic and electric guitar most Sundays at his home church near Duluth. A talented builder of handcrafted guitars, Tedd also adds harmony vocals and Travis-style guitar for Sarah and the band.