SMBB on Pioneer Public TV:
————————————————————————————————————————–
ResoSummit Scholarship earns trip to Nashville
The list of promising young musicians who've spent time in Nashville is long. But not many visiting 15-year-old's have the first-hand memories that Adam Birkeland took home from the Music City thanks to Rob Ickes and his annual ResoSummit.
Birkeland, the recipient of the 2015 Houston Caldwell Scholarship at Ickes' 9th annual ResoSummit, played with–and took lessons from–the world's top Dobro players at the Summit Nov. 12-15. Birkeland was selected by Ickes and ResoSummit co-producer Betty Wheeler as the recipient of the 2015 scholarship.
The award is named in honor of Houston Caldwell, a young bluegrass musician who died tragically in an accident at 18 years-old. It recognizes young musicians who show promise on the instrument made famous by legends like Josh Graves, Mike Auldridge, Jerry Douglas and Ickes.
"I've been playing the instrument for almost three years, and I learned another three years-worth of material in three days at ResoSummit," said Birkeland. "Plus, I got to see Jerry Douglas and Rob Ickes play together live. That was awesome. I'll never forget that as long as I live."
The young picker, who's also a Boy Scout and plays in his family's bluegrass band in Minnesota, www.sarahmaeandthebirkelandboys.com, attended ResoSummit for the first time. He was impressed with the skilled players and high-caliber instructors that Ickes' brought in for the 100-plus workshop participants.
The Duluth, Mn native said he's already planning a return trip to ResoSummit next year for more memories and lessons with the world's best Dobro players. But he'll have to get signed up quickly when enrollment opens next year. Registration for the 2015 ResoSummit, www.resosummit.com, sold out within an hour.
###
NEWS RELEASE
May 26, 2015 – Contact: Mike or Sarah Birkeland – smbb.band@gmail.com
Sarah Mae & the Birkeland Boys release debut CD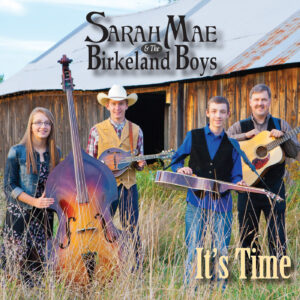 Sometimes a nice comment goes a long way. In the case of  Sarah Mae and the Birkeland Boys, an unsolicited review from legendary Minnesota hand-crafted instrument-maker and luthier Lloyd LaPlant makes the investment into their debut CD all the more worthwhile.
"They knocked it out of the park," said LaPlant. "It really sounds great. I like every song."
The Birkeland's tapped MBOTMA member and singer-songwriter Bill Isles to record and co-produce the CD.
"Bill Isles is not only a fantastic singer-songwriter and performer, he's a phenomenal CD producer," said Mike Birkeland. "It was a pleasure working with him. He's patient and meticulous and has a great feel for the songs and the music. This is a dream come true. And Bill helped make it happen."
"Sarah Mae and the Birkeland Boys bring a kindred spirit and energy to every song on the CD," said Isles. "They're great musicians with meaningful songs. More importantly, they connect with their audience as a family that shares a deep bond through the gift of music."
Isles, who sings and tours with his wife, Kate, has recorded and produced six albums. He recorded, mixed and mastered the Birkeland family's debut CD at his Little Daylight Studio near Carlton, MN.
The Duluth-based band performs original songs about the importance of family, overcoming hardship, the relevance of faith and reasons to hold on to hope in a perplexing world. They mix authentic acoustic roots music such as bluegrass, folk and gospel to produce a toe-tapping mix of tunes that uplift audiences of all ages.
The CD also features several additional musicians from the Duluth, Minnesota area who contributed their talents to the recording, including Tim Byrnes, Ken Gerard, Tedd Williams and Isles. Sarah Mae and the Birkeland Boys will be playing at Rec Fest in Milaca in July as well as the Lakes Area Festival in Pine River in August.
For booking information, email smbb.band@gmail.com. For more on Sarah Mae & the Birkeland Boys, check them out on iTunes, Facebook or at sarahmaeandthebirkelandboys.com or birkelandfamily.com.