Homegrown Minnesota bluegrass and gospel that will make you smile, stir your spirit and touch your soul. Sarah Mae and 'the boys' blend "relative" harmonies with a toe-tapping mix of original and traditional bluegrass, roots, Americana and gospel music. The family band entertains audiences of all musical tastes and ages — mixing skillful instrumentation with engaging harmonies and a kindred spirit that is reflected in meaningful (and fun) songs about faith, hope … and life.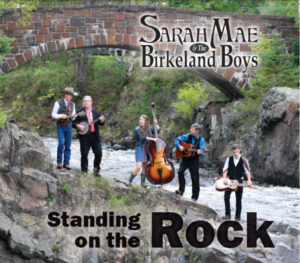 And … guess what?  It's here!
We released our new CD — "Standing on the Rock" in January 2018! It's chock full of tunes that will stir your spirit. That's our promise to you (to order: send us an email at SMBB.band@gmail.com — or message us on Facebook).
And check out songs from our first CD "It's Time" on iTunes, Amazon or … right here! We have a few tunes here on our web site we hope you'll enjoy. After listening to our debut CD, legendary Minnesota instrument maker and musician Lloyd LaPlant said, "They knocked it out of the Park. I like every song." And in a review John Chabot, from Minnesota Bluegrass magazine added, "It's Time, features an exceptional playlist of mostly original bluegrass, folk and gospel songs."
"Contact Us" at SMBB.band@gmail.com and we'll send a disc your way — or  let us know if you'd like us to play for your church, festival or community event. We'll share the gift of music and stir your heart, mind — and soul.